Wireless+ is all about versatility, flexibility, and freeing your creative processes. In this feature, we spoke with Spanish big band leader Llibert Fortuny about the ways in which TMA-2 Studio Wireless+ is changing the game - not just for him, but for all 21 members of his band. 
We are always excited to see the ways in which our TMA-2 Studio Wireless+ headphones are being used all around the globe. We've seen some amazing stories so far, with everyone from turntablists to mixing engineers reaping the benefits of being cable-free, but none have been quite as unique as this incredible story coming out of Spain.
Big band leader Llibert Fortuny and his trusty band of 21 musicians have been making the most of our TMA-2 Studio Wireless+ headphones in their recent live shows and sessions. Thanks to the accompanying W+ Link technology and its ultra-low latency, the whole band is now able to follow click tracks, keep in time, and most importantly move around and express themselves without the worry of tripping over a cable.
Check out the interview below to find out a bit more about Llibert and the differences ditching the cable has made for him and the band.
Can you tell us a bit about what you do?
I'm coming from the world of Jazz, I'm a saxophone player, and the last 30 years I've been playing all kinds of jazz, recording albums and composing my own music.
I always had a look into looping, effects and working with computers. And at the end, I got my own studio 5 years ago and I also started to do some productions that included the 3 roles in my life: player, composer and audio/video artist. 
Besides that, I started a project called CROMÀtic, where we teach professional musicians to develop their music skills with all the actual music tools.
What does a typical day of work look like for you?
I always have a 2-hour group lesson, every day, in the studio, we stream these lessons in real-time and we post them on our website so they can check them 24h a day. That's where we use the AIAIAI TMA-2 Wireless+ because all the work we do is with backtracks or iReal Pro with different chord progressions, and loops in odd rhythms, etc... so they can listen to my voice notations plus the audio flies and we can be recording everything without any PA feedback. Also, we love the fact that we can let them practice a real studio situation and get used to using the mics.
When I finish teaching, I start my regular live job, recording saxophone solos, and composing or producing for others.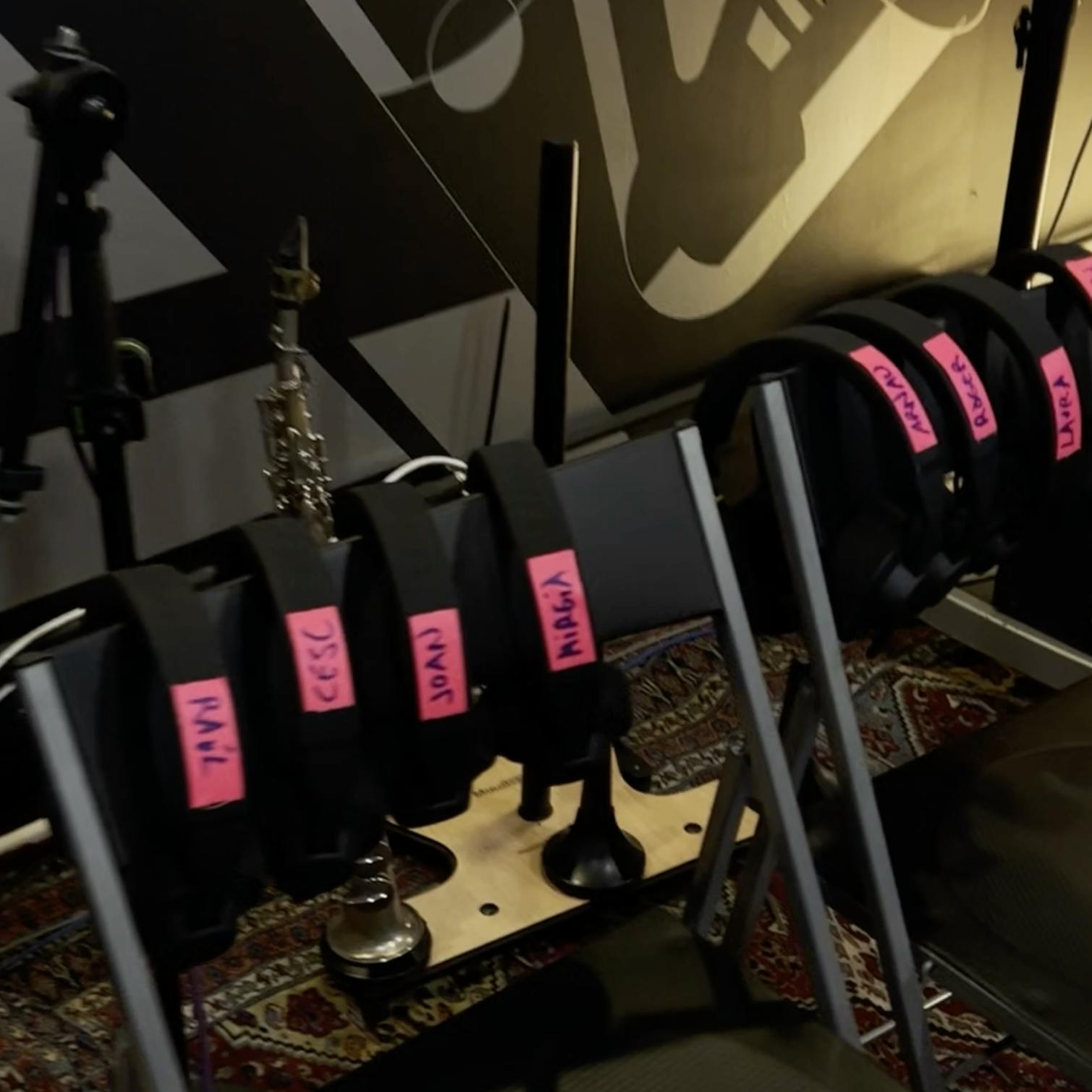 What role do the headphones play in your workflow?
The fact that we have no cables getting around our instruments, it's super, and of course the latency it's amazing, also I work alone, and when I have to move mics around I can be moving freely, listening in real time and position all the mics. Also, I love the frequencies that they have, they are flat and I can be playing live, mixing, or just listening to music.
How has the introduction of Wireless+ changed the way you and the band work?
We have a Big Band, 21 musicians, it's kind of an electronic big band, where I have all the big-band mics root to Ableton and we play with some electronic beats, I can loop the big band any way I want, only drummers, only horns, etc. We try to have a clean sound in stages and we use the TMA-2 Studio Wireless+, so everybody can listen to the click and the backtrack. When we set up the fact that there are no cables on the stage with 21 musicians it's priceless.
As our headphones are modular, have you made any customizations?
I love the fact that they are modular cause if we have any issues it's just a plug-and-play thing. I want to try some different ear pads that I saw that have to get more isolation for our rhythm section, the pads we have are great because they are supernatural and we can listen to our acoustic sound directly!