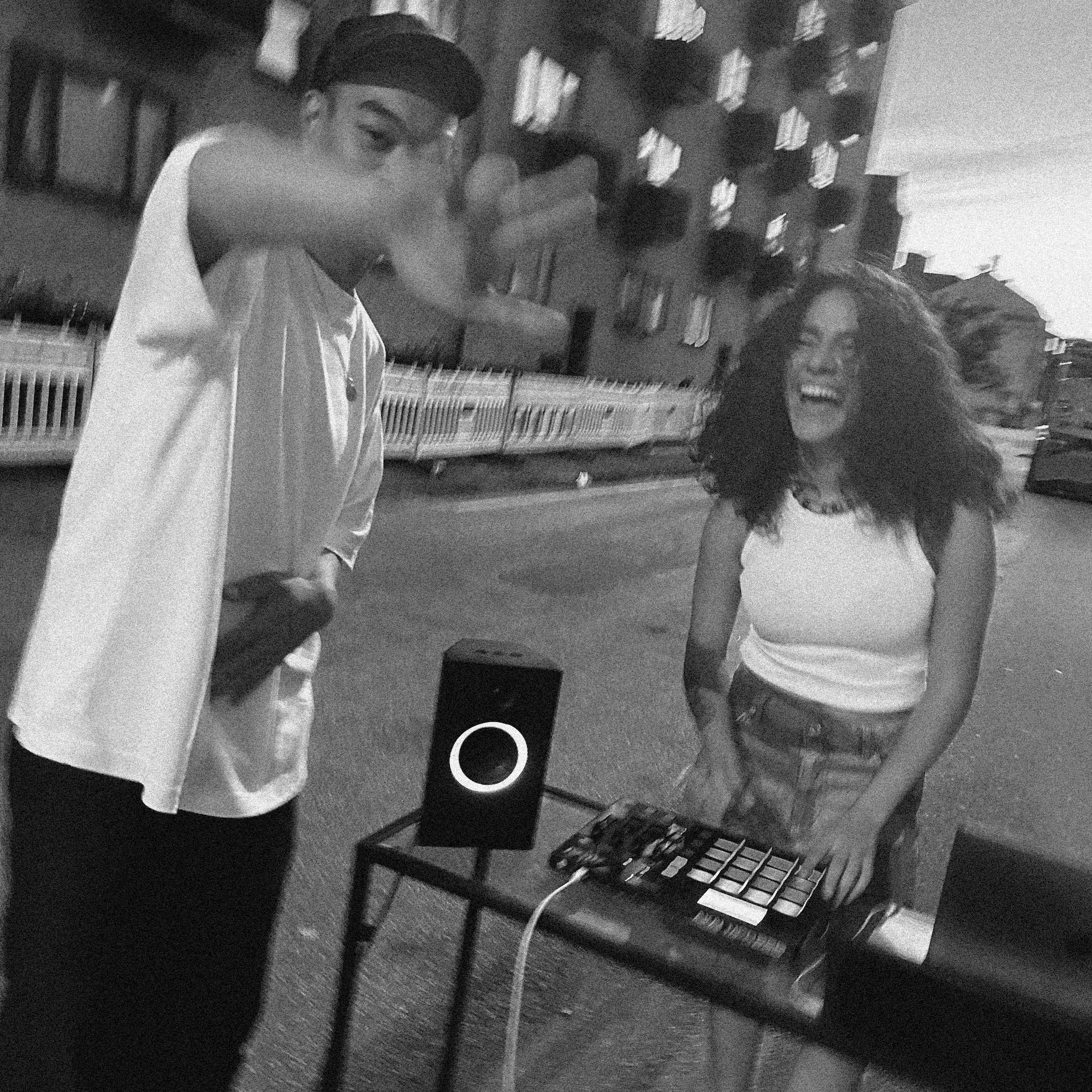 Making music no longer has to be a static, solo experience. In a world of portable devices and high-speed connectivity, creativity is becoming more dynamic and collaborative. Our UNIT-4 Wireless+ studio monitors reflect this new reality. 
Combining stable, low-latency wireless technology with battery-powered functioning and a highly portable build, UNIT-4 allows you to break free from cables and make music anywhere. Whether you're taking your monitors on tour, having a jam in the park, or relocating to your living room for low-pressure listening, you won't think twice about moving these speakers around.
Crucially, this portability doesn't mean a compromise on quality. In this article, we'll take a deep dive into the technology and design innovations that make UNIT-4 portable and versatile, showing how the speaker delivers pro-level audio performance wherever you create.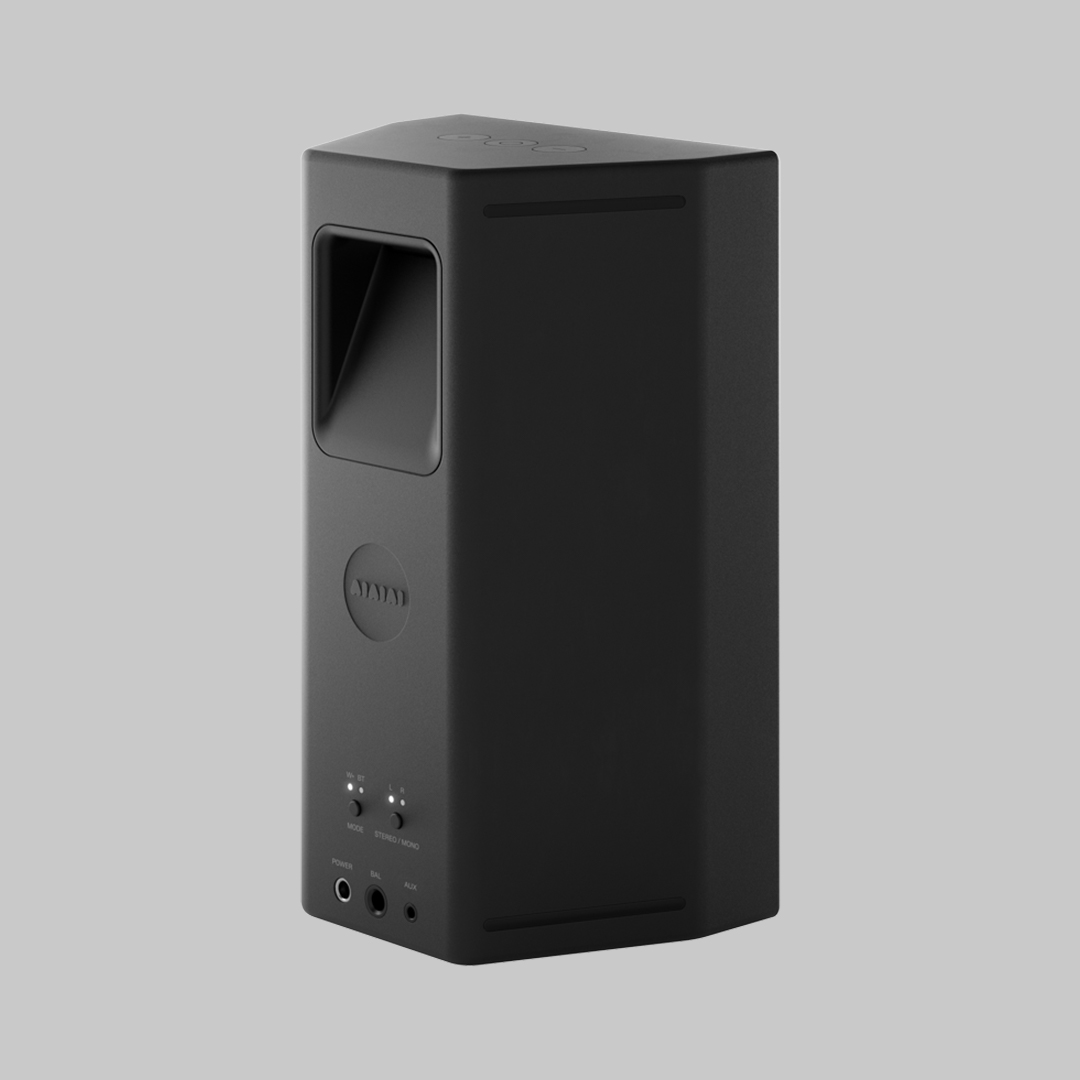 Bluetooth vs. W+ Link
Wireless audio presents exciting possibilities. It makes sound more mobile, more versatile, and more adapted to our everyday lives. But when it comes to pro music-making, the existing technology doesn't cut it. Many of us enjoy music on Bluetooth speakers or headphones, but this technology is poorly adapted to more precise audio work. 
Most Bluetooth codecs deliver an audio quality far below pro audio standards. Bluetooth connections can also be unreliable, with drop-outs and interference a common issue. On top of this, Bluetooth devices introduce significant latency into the listening experience - a problem when trying to record instruments, edit audio, or get in your creative flow.
UNIT-4 Wireless+ studio monitors do offer Bluetooth connectivity, making them handy for casual listening. (Additionally, you can cable them to your audio device via 3.5mm mini-jack or 6.3mm balanced TRS inputs). But they also feature our W+ Link technology. W+ Link allows you to make music on a high quality, stable, and low-latency wireless connection. Let's look at how this works. 
Ultra-low latency
W+ Link reduces latency to inaudible levels. As seen in the graphic below, most Bluetooth codecs introduce a latency of around 80ms to 150-250ms. Depending on the tempo of your project, that could be as much as a 16th note delay. You'll clearly notice this gap between what's happening on your device and the sound you hear. In many cases, it makes tasks such as tracking instruments or fine editing impossible. 
W+ Link's codec is designed to send audio with an ultra-low latency of 16ms. Latency is kept low by the use of two antennas. Bluetooth both sends audio and receives connection information over a single antenna, meaning sending and receiving happen one at a time. W+ Link's two antennas solve this problem. 
Additionally, W+ Link's latency is always the same. A Bluetooth connection changes latency from moment to moment as it swaps frequency bands when encountering obstacles. W+ Link, on the other hand, consistently swaps between pre-defined radio frequency bands, meaning its latency is always 16ms. 
This is important when trying to compensate for latency in a studio environment. 16ms is just at the human perception threshold, meaning your listening experience with UNIT-4 will be latency-free in most situations, such as playing piano or guitar, using MIDI controllers, or mixing. But in some very specific contexts you might want to account for those 16ms of latency while you work. Because W+ Link's latency is always the same, you can account for it in your workflow.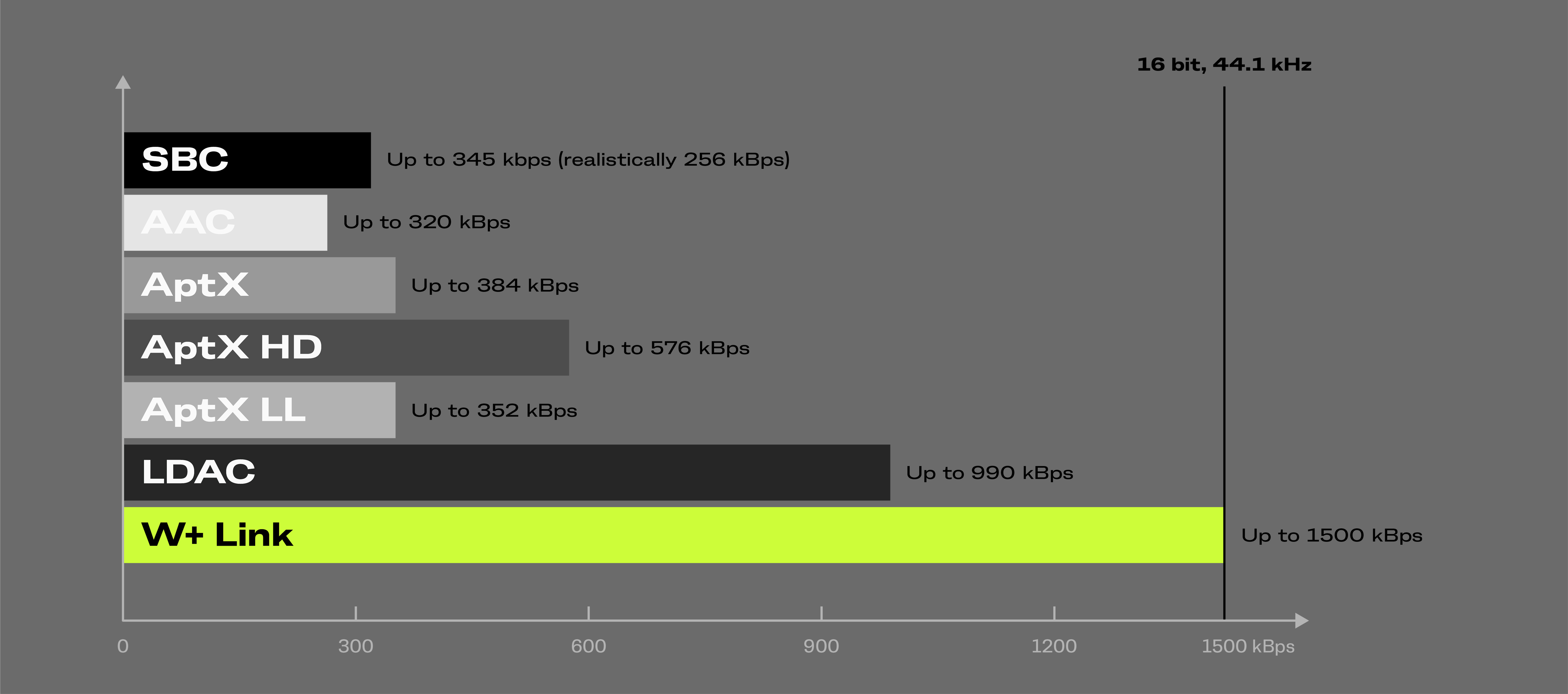 Stable, uncompressed audio
Unlike Bluetooth, W+ Link offers stable, pro-quality wireless audio. Common Bluetooth codecs compress audio to a level way below professional standards. As the graphic below shows, even the highest resolution Bluetooth codecs fall short of uncompressed audio, meaning you risk missing important details in your sound. By contrast, W+ Link broadcasts over a larger bandwidth in order to stream uncompressed audio at pristine CD quality: 44.1khz, 16 bit. 
W+ Link's larger bandwidth also helps prevent drop-outs and moments of interference. These issues - worse when there are other connections nearby - can disturb close listening and disrupt your flow. W+ Link's dual antennas (as opposed to Bluetooth's single antenna) mean that if one connection drops out, there's a backup ready to step in. The result is rock-solid audio.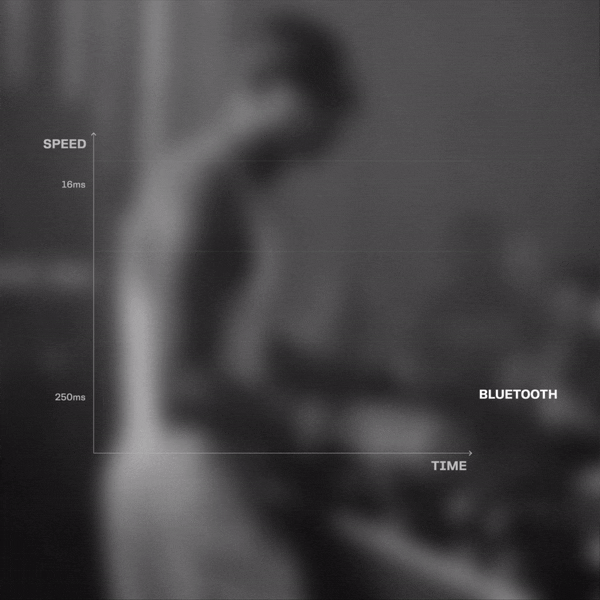 Going cable-free
Wireless audio alone wouldn't be useful without a wealth of other features that make UNIT-4 Wireless+ monitors a highly mobile listening experience. UNIT-4 is battery powered with 20 hours of playback time (and just 2 hours of charging time), removing the need for bulky power supplies and additional trailing cables. The robust recycled plastic housing is scratch resistant and will withstand life on the road. Rubber strips on key surfaces provide grip and help to isolate bass whatever surface you're working on, as well as protecting the speaker in transit.
UNIT-4 Wireless+ monitors are also highly compact and lightweight - without sacrificing sound quality. The speaker is 3 litres in volume: substantially smaller than many monitors of equivalent quality and power. It has a very slender footprint, measuring just 11.5 x 15.5cm at its base, and is a petite 25.7cm tall. It weighs about as much as a bag of apples (2.5kg), making your UNIT-4s significantly more transportable than most professional-grade monitors. For longer trips, UNIT-4 fits comfortably in luggage.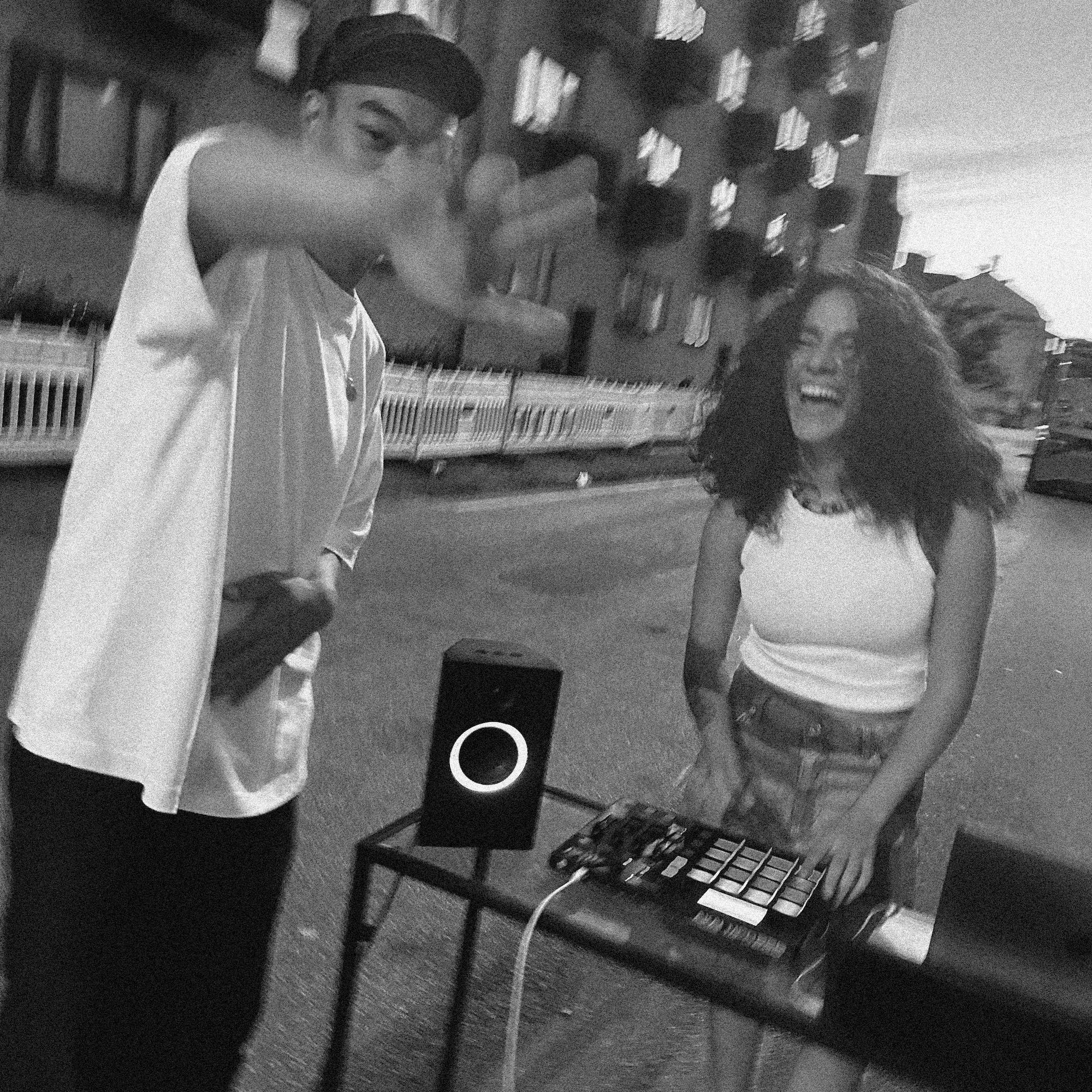 Great on the road
Moving the monitors from room to room is as easy as grabbing them by the bass vents, which double as comfortable carry handles. A series of accessories help to make UNIT-4 even more rugged at a range of price points. A lightweight drawstring bag offers everyday protection. For a tougher life on the road, we've developed a recycled silicone rubber bumper skin that's super resistant to scratches and impact. And for long journeys there's the premium carry case, with space enough for two speakers, chargers and other accessories. 
Crucially, this portability doesn't lead to a loss in quality, with UNIT-4 offering clear sound, a flat frequency response and bass extension down to 40Hz. All of this means that UNIT-4 opens up exciting creative possibilities. Your next production session need not be stuck in your studio: it could be in a rented house in the countryside, a collaborator's kitchen, or on your coffee table. And you can jam with friends in weird and wonderful locations with no need for cables or a power supply. Wherever your creative projects take you, UNIT-4 will come along for the ride.
Find out more about UNIT-4 Wireless+ here.