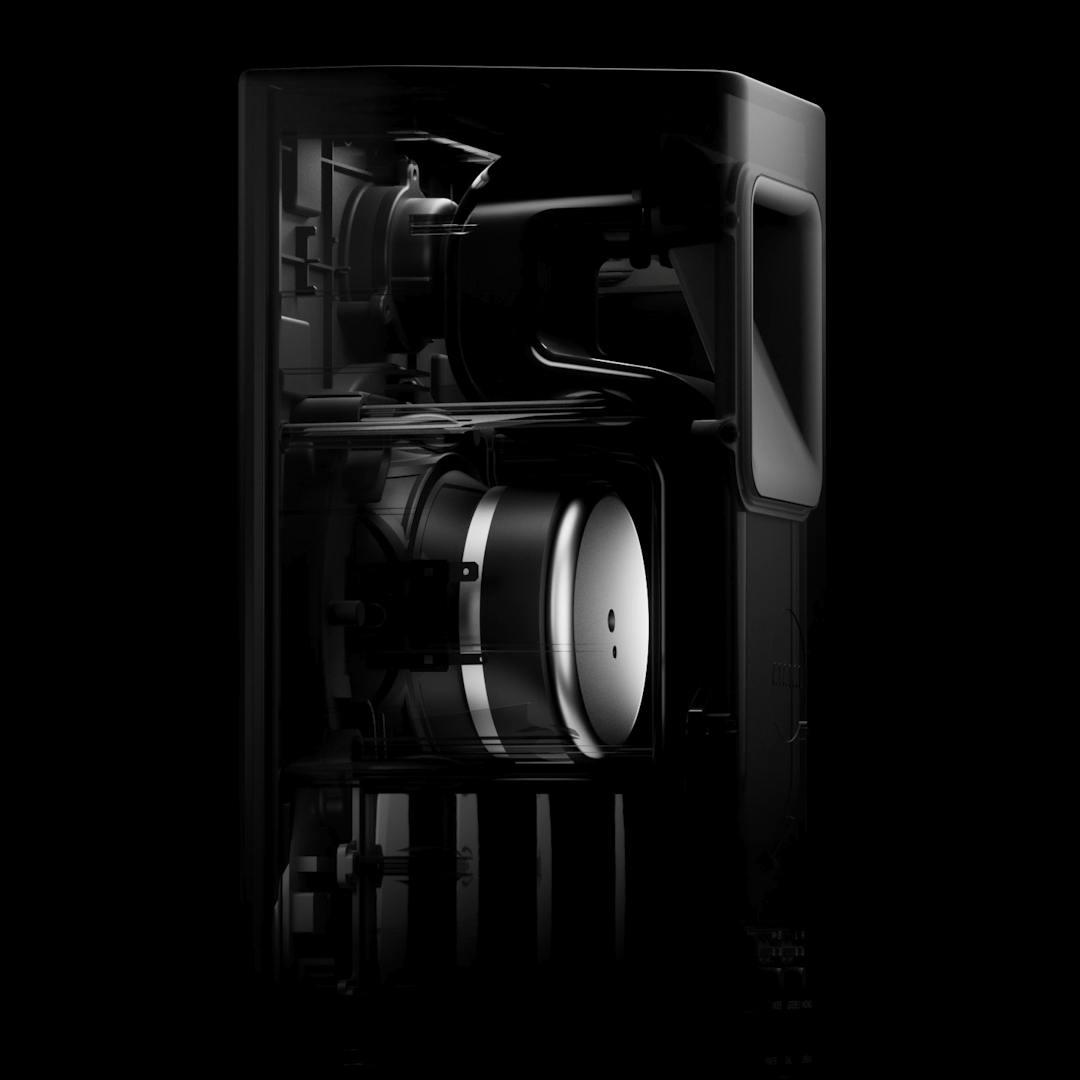 The UNIT-4 Wireless+ studio monitors allow you to break free from the cable and expand your creative freedom.
With low-latency wireless performance, battery power and a lightweight design, they're designed to accompany you wherever your creative journey takes you. Crucially, this versatility doesn't come at the cost of sound quality. UNIT-4 is a professional-grade reference monitor, and it has the sound to match.
In this article, we'll take a deep dive into the features that make UNIT-4 sound detailed, transparent and powerful. We'll explore the design decisions behind its high-quality sound, and show you how to get the best out of UNIT-4 no matter where you are.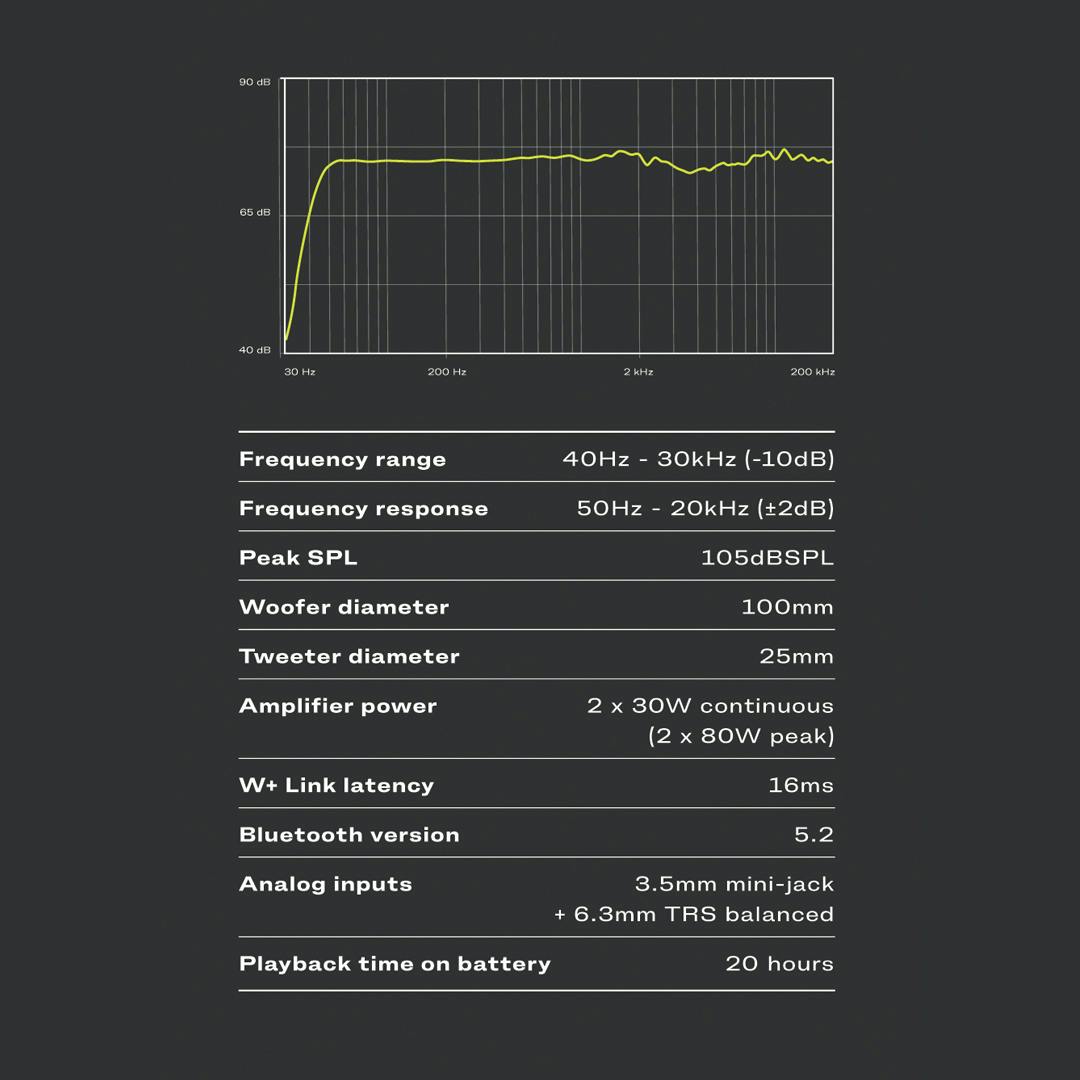 Honesty is the best policy
The most important qualities in a studio monitor are clarity and honesty. You need to trust that you're hearing things right, without loss of detail or additional colouring. UNIT-4 offers accurate, trustworthy reference monitor sound. It's a 2 way active monitor, with a 4-inch woofer and 1-inch silk-dome tweeter with crossover at 3kHz. The bass reflex enclosure is made from stiff recycled plastic, which minimises resonance and colouration of the sound. 
As shown on the below graphic, UNIT-4 gives a flat frequency response (with deviations of just +/-2dB) from 20kHz down to 50Hz. Individual amps for the woofer and tweeter also help to achieve precise control over the sound and enhanced dynamics. All this means you can be confident in what you're hearing across the frequency spectrum, and from the loudest moments to the quietest. 
Serious low-end
Additionally, UNIT-4 offers impressive bass extension down to 40Hz. Given the speaker's compact 3-litre volume, getting such deep, controlled low-end wasn't easy. A series of careful design features help achieve this.  
Firstly, the 4" woofer has an unusually high excursion - that is, it moves far forwards and backwards when producing sound waves - which helps it to effectively reproduce lower frequencies. Special care was also put into the design of the bass vent. A vent (or hole in the speaker enclosure) is a common technique for improving low-frequency response. UNIT-4's vent has been carefully optimised, with a folded design that makes the most of the enclosure's limited internal space. (The bass vent also doubles as a comfortable carrying handle).
Many smaller portable speakers (such as Bluetooth speakers) use extra signal processing to artificially boost bass, giving the illusion of extra power. This is undesirable in a studio monitor, where honesty is the best policy. UNIT-4 uses just a simple EQ boost to create a flat frequency response down to 40Hz - without any misleading bass boost or other DSP trickery. 
Great sound everywhere
UNIT-4 is intended to be mobile and versatile, ready for use in a wide range of contexts. So we designed the speaker to optimise sound quality while keeping in mind that not every music-making space is ideal. Key to this is the waveguide: the curved part of the enclosure surrounding the tweeter. The waveguide is used to control the flow of high-frequency sound as it projects into the room. 
Typically, you'll get the flattest frequency response when the tweeters are pointing directly at you. But this isn't always possible in informal settings or group sessions. We designed the waveguide so that a neutral frequency response is maintained when you're up to 30 degrees off-axis. That means you can stop worrying about your set-up and positioning, and just get on with making music. The waveguide, alongside the speaker's minimal front design, also ensures a precise sound stage, helping you to accurately hear the placement of sounds across the stereo spectrum. 
You can position UNIT-4 in various ways to get the performance you need. As well as standard vertical placement, the speaker can be set on its side in "stage monitor" mode, which angles the cones 30 degrees upwards. This is useful when projecting sound across a large room, or in an enclosed space where your ears aren't level with the speaker position. UNIT-4's rubber feet ensure grip and isolation from whatever surface you place it on. Additional UNIT-4 Iso Pads are also available with a 6 degree incline or decline, providing greater isolation between the speaker and your working surface to further improve point-source accuracy, staging and dynamics.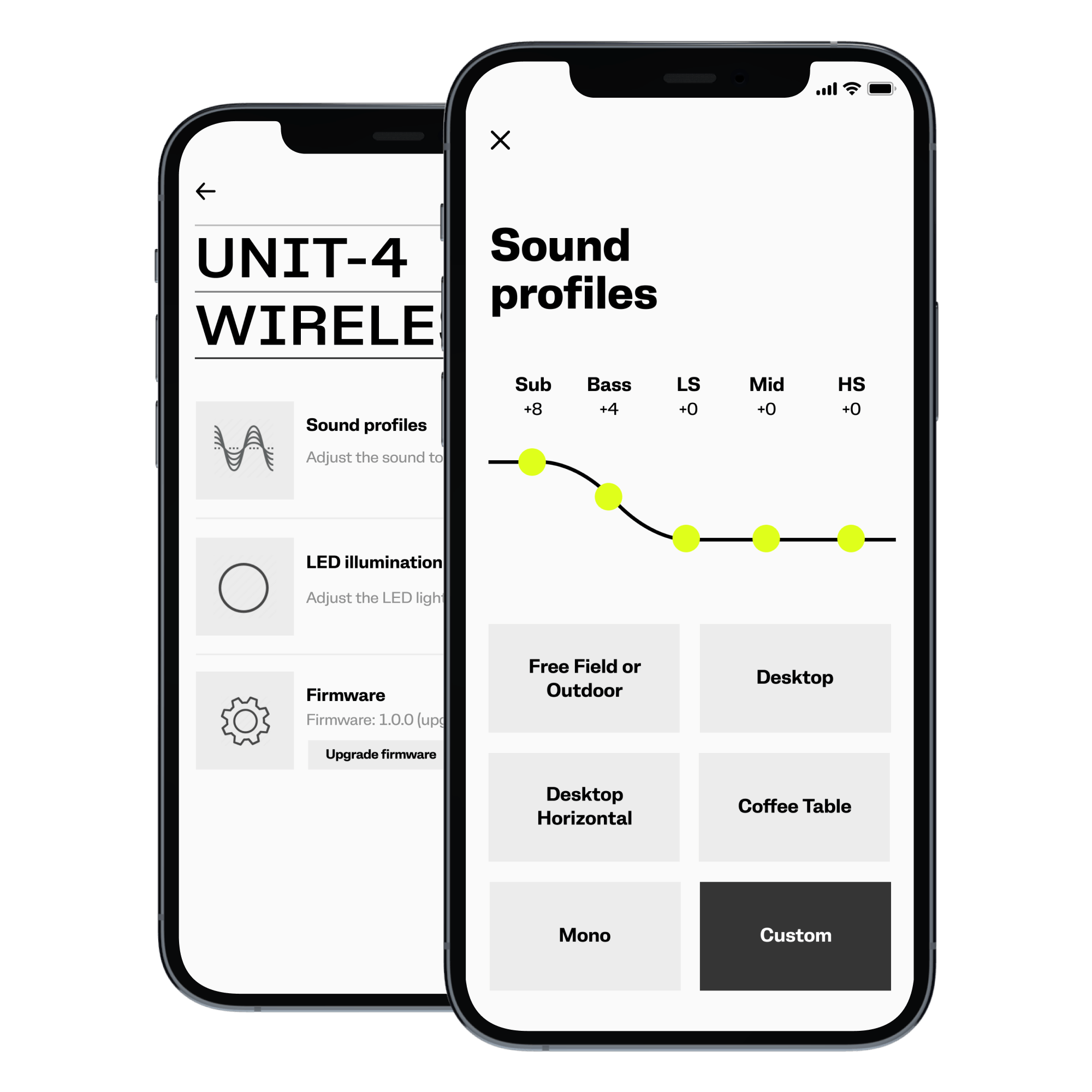 Adjustable EQ
The portability of the UNIT-4 Wireless+ monitors means that you can use them in spaces where previously only headphones would do. This frees up your creativity in exciting ways. But when working on speakers, the room has a greater effect on the sound. Sometimes, additional tweaks are needed to compensate for its characteristics. 
The AIAIAI app makes it quick and easy to adjust UNIT-4's sound to match your surroundings or listening preference. The app connects to your monitors via Bluetooth, and offers a customisable 5-band EQ that updates the speakers in real-time as you tweak. Five additional presets have been tuned by our audio specialists to give you the optimum sound in common-use contexts. 
These features mean that you can trust the sound of UNIT-4 no matter where you are. Whether you're jamming with friends, creating in a hotel room, or sketching on your sofa, the UNIT-4 Wireless+ Studio monitors will tell you how things really sound. The UNIT-4 Wireless+ studio monitor is the first of its kind. It merges two worlds of speaker design to create a new archetype for music creation.
Find out more about UNIT-4 Wireless+ here.